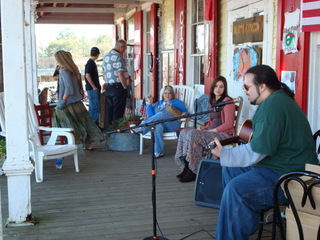 Pickin On The Porch
closed
Located directly across the street from the Whistle Stop Café, the Juliette Expresso is bringing music back to the quiet little town of Juliette, GA. Every Sunday (and a few Saturdays) local musicians can be found "Pickin' on the Porch" in front of, as well as inside, the coffee shop.
"Pickin' On The Porch" has drawn acoustic musicians like Scott Pallot, Chris Bartlett, Matt Moncrief, Brian Smith and acclaimed Atlanta musician Rev. Jeff Mosier, of BlueGround UnderGrass fame.
The community of Juliette has embraced this weekly event due to the intent of promoters Candace Carter and Brian Smith, which is to keep the focus on the craft of music and the simple pleasure of enjoying live music in its purest form. Each show is free to anyone of any age, and it is well worth the picturesque drive to Juliette.
If you are interested in playing somewhere in Juliette, contact Candace call (478) 718-2620.
Check The Calendar for A List of Scheduled Performances!