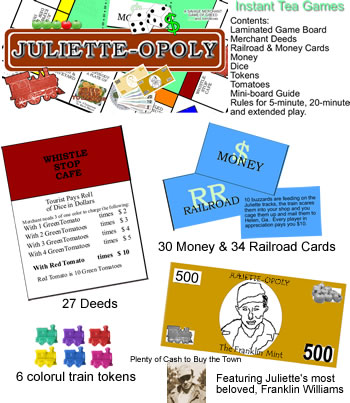 On the right is a listing of all the pieces that come
with your 13 X 10 game board.
Game pieces and game board are shipped in shrink wrap.

Have fun !
Instead of playing for houses, this time its tomatoes; green and red. You'll need them to fight against the vicious merchants who want take you for every tourist dollar you have.

As you land on "$$" or "RR"
you'll discover more about
Juliette and its
Mayberry-esque folk . . .

Yeah right, "Khhhhhk"
(that's the sound of a knife drug across a fellow merchant)

All in good fun.
The game was created by a local artist and materials
are printed by local businesses and at the Fried Green
Products office . There is no corporation behind this as
each game is created one at a time. Hours are spent
printing and cutting and wrapping. This makes the
game a valuable collectible and also not as cheap
as what you would buy in stores.